Schedule set for Round 2 of Men's World Championship as fans expect new thrills
Sellout home crowd in Florence enjoys co-hosts Italy in their win over Slovenia. Now fans in Milan will get the chance to cheer on Italy, as the 2018 FIVB Men's World Championship enters Round 2.
Lausanne, Switzerland, September 21, 2018 - Sixteen teams remain in the running, as Round 2 is all set at the 2018 FIVB Men's World Championship, promising brand new thrills for fans across cities in Italy and Bulgaria and indeed all over the world as they jostle for position in their bids to make the finals of the FIVB's flagship event.
All qualified teams carry over their results from Round 1, as they travel to new venues for their next three matches. The 16 teams are divided into four pools of four. The top teams of each Round 2 pool, alongside with the best two second-placed sides, form the 'Top Six' and advance to Round 3 which begins next Wednesday, 26 September, in Turin's Pala Alpitour.
Click on image to download in pdf format.
Pool E in Milan's Forum di Assago:
Undefeated co-hosts Italy lead the pool on five wins, with the Netherlands just behind at 4-1, setting up a race that reminds of the 1990s when these two teams dominated the world and European scenes. Russia, starting at 3-2, could in theory go for first place, but the reigning European champions would need to win all three of their matches and Italy to lose all three of theirs. Finland are already out of contention for first place, even before the start of the Round, and can only hope for a miracle to finish second.
Pool F in Bologna's Paladozza:
Rio 2016 Olympic champions Brazil (4-1), Belgium (3-2) and Slovenia (3-2) are all in a tight race for pole position - separated by very little. Australia, at 2-3, could in theory still finish first, if they win all three of their matches.
Pool G in Sofia's Armeec Arena:
USA are undefeated and lead the pack on a 5-0 record, with Iran close on their heels at 4-1. The Americans could find themselves at a disadvantage in a potential tie, having already dropped two points in five-set wins in the first round, while Iran have only dropped one point. Co-hosts Bulgaria face an uphill struggle, entering Round 2 on a 3-2 record - same as Canada.
Pool H in Varna's Palace of Culture and Sports:
Defending champions Poland enter Round 2 undefeated, at 5-0, but Serbia (4-1) are in hot pursuit. France are in deep trouble, coming in third place on a 3-2 record, while Argentina would need to win all their matches on full points to be in with a chance for second place.
All teams travelled today to their new host cities and will train on Thursday at their new venues, ahead of the restart of the competition on Friday.
Travel schedule:
• From Florence: Italy travel to Milan, Belgium and Slovenia to Bologna, Argentina to Varna.
• From Ruse: Brazil go to Bologna, the Netherlands to Milan, France to Varna, Canada to Sofia.
• From Bari: USA move to Sofia, Serbia to Varna, Russia to Milan, Australia to Bologna.
• From Varna: Poland stay in Varna, Iran and Bulgaria transfer to Sofia, Finland to Milan.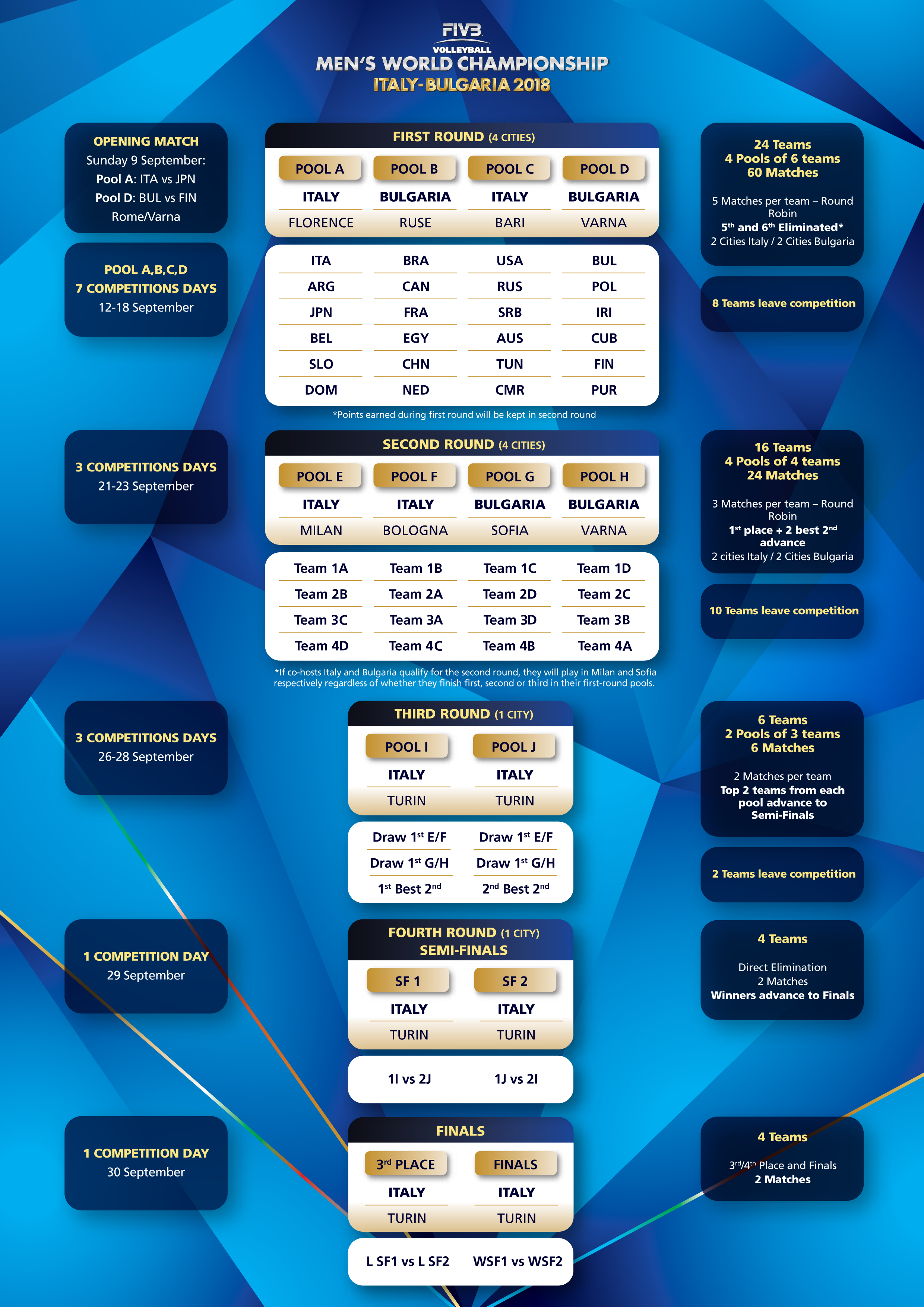 Quick links - Volleyball:

FIVB Volleyball Men's World Championship Italy-Bulgaria 2018
News
Schedule
Competition
Teams
Results and ranking
Tickets
Volleyball TV